You can easily back up the contents of your SME Server using one of two methods. Both are controlled through the web panel shown below.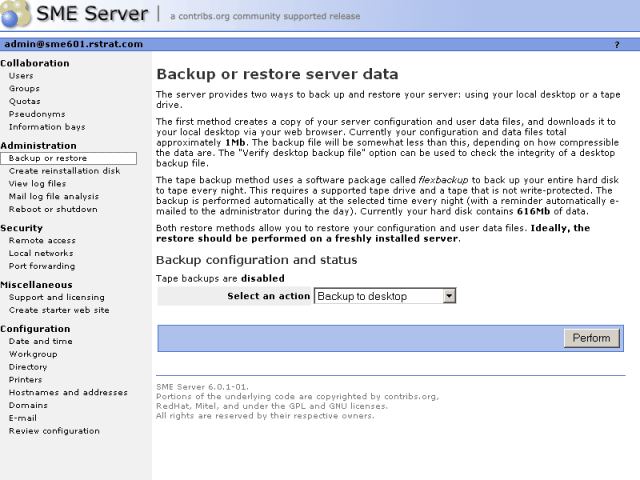 You have five actions you can perform, each of which is described in the following sections.
The first type of backup allows you to save a snapshot of your server configuration onto your desktop computer. This will save all user accounts, user directories, i-bay contents and web content, as well as the configuration parameters entered using the server console and the server manager. The web panel shows you the size of the backup file so that you can verify whether sufficient space exists on your desktop machine.
When you choose Backup to desktop, a browser window will appear that will allow you to name the file and select the location on your desktop where the file will be saved.
If you ever need to restore the original configuration and files to your server, simply select Restore from desktop and a browser window will prompt you to select the backup file from your desktop. Restoration of the information is automatic.
Warning

Ideally you should use Restore from desktop on a freshly installed server. Therefore, if you are planning to do a restore, you should first re-install the SME Server software and then perform the "Restore from desktop" command.
This option allows you to verify that the backup to disk was completed successfully. In rare cases we have found that users ran out of disk space on their client PC while doing the backup to desktop. This options allows you to verify whether or not the backup did in fact complete successfully.
The second type of backup involves configuring your system to perform a daily full system backup to a tape drive using a software package called flexbackup . If you wish to activate this option, check the box next to Enable Tape Backup and then specify the time at which you wish the backup to occur and the time at which reminder notices should be sent.

Important

Be aware that you must use a supported tape drive and that a tape must be inserted in the drive for the backup to work.
Note

Reminder e-mail messages for tape backups are automatically sent to the e-mail address that is configured to receive administrative notices. This is normally the user admin, but you can change this by going to the Other e-mail settings screen in the server manager.
If you are performing regular backups, you can also restore user data and configuration settings by using the Restore from tape option. After you press the Perform button, the system will read the files from tape and overwrite any currently existing files. You must reboot your system after the restore for the changes to take effect. Note that in order to restore data from tape, you must have first checked off Enable Tape Backup and scheduled nightly backups. If you have not done this, you will not be able to restore from tape using the server manager.
Warning

Note that this restore procedure only restores user data and configuration information. It does not restore system files. If you experienced a serious system crash, you should first re-install the SME Server software and then perform a restore from tape.